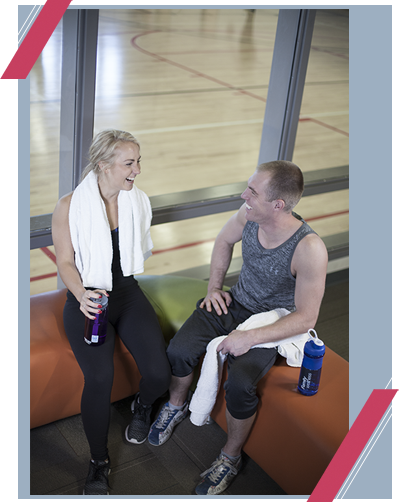 We all want to be a part of something positive. That's why they're called memberships.
Family Wellness offers individual and family/household memberships with Monthly or Annual payment options. A membership gives you full access to the facility. We also offer daily guest passes.
Automatic Monthly Withdrawal Membership Rates
Payment methods include EFT (bank draft) and Credit Card for monthly payment. Annual memberships may be purchased in advance by check, cash or credit card.
Annual rates are also available. Please speak with a Member Relations Associate for details.
Household/Family includes: 2 adults living at the same address and their dependent children through the age of 23 (Age 24+ must purchase an individual membership.) See our Age Guidelines for the facility. 
Each Individual and Household/Family membership includes 3 free guest passes per calendar year. Once all free guest passes have been used, guests of a current Family Wellness Member pay half of the regular day pass fee.
For our complete membership policy, please click here
How Do I Join?
So you've done your research and you've decided that Family Wellness is right for you. Now what? You can start by requesting a free single day guest pass, scheduling a tour, or stopping by the Family Wellness front desk! We are committed to connecting you to the programs and services you are most excited about, and maybe even encourage you to try something new. If you have any questions, please feel free to contact our member relations team at 701-234-2400.
Click here to make changes to your current membership
Need Based Membership
As a commitment to the health of all community members, Family Wellness offers financial assistance to those with demonstrated financial need or extenuating circumstances. Applications are available at the Front Desk or click here to print. Please submit completed applications to the Front desk.
Sanford Health Employees
Through its commitment to employee health and wellness, Sanford Health funds a 20% portion of the membership to Family Wellness. This includes family members living in the same household and dependent children up through age 23. Sanford Volunteers and Sanford Auxiliary also receive this benefit. Please bring your Sanford photo ID when registering your membership.
Health Insurance Reimbursement Programs
We partner with health insurance reimbursement programs through several insurance providers, including Blue Cross Blue Shield of North Dakota, Blue Cross Blue Shield of Minnesota, Blue Cross Blue Shield of Wyoming, Fargo Public Schools, Regency Properties, Sioux Falls School District, South Country Health Alliance, U Care, Vitality, Virgin Pulse, and others. Each provider may have several plan options, so check with your employer if you plan participates in a wellness incentive program. Family Wellness, LLC is a distinct non-profit entity, owned by Sanford Health and YMCA of Cass and Clay Counties in equal partnership. For this reason, memberships are separate from those of the YMCA of Cass and Clay Counties. If you participate in an insurance reimbursement program with the YMCA, any visits to Family Wellness, LLC cannot be counted towards your submitted number of visits in consideration for your reimbursement benefit.
Code of Conduct
The mission of Family Wellness is to inspire healthy lifestlyes by connecting people in a fun environment. To help with that, we encourage all of our members and guests to follow our Code of Conduct.