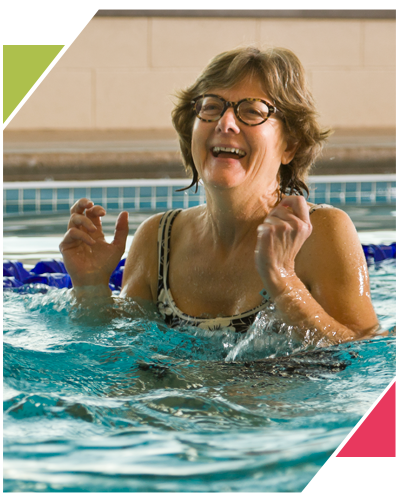 Whether you want to strengthen and tone your muscles, increase your flexibility, or improve your cardiovascular endurance, our Group Fitness classes will help you meet your wellness goals! Family Wellness offers a variety of fun, engaging Group Fitness classes including Pilates, Zumba, and BODYPUMP! If you're looking to tone and sculpt your body with lower impact to your joints, we offer several aquatic Group Fitness classes for swimmers of all ages. Group Fitness classes are a great way to exercise with friends and family, and with multiple sessions every day, you'll be able to find a class that fits your schedule.
Registration is required for Float classes when they are offered due to limited equipment. You can register for classes by clicking on the class that you would like to attend below and clicking "Sign Up" on the right side. You will need to create a login and password for these classes. LEARN MORE HERE ALONG WITH INSTRUCTIONS FOR APPLE USERS. Classes are available for registration exactly five days in advance of the class time to the hour.
Fitness on Demand
Can't make it to the gym for a class? Fitness on Demand gives you 24/7 access to trainers and classes on your time. Just pick a class and go. You can choose from an expansive library of group fitness classes featuring well known trainers from every training discipline. With new and challenging courses becoming available all the time even the most active gym-goer will never lack for fresh workout material. 
There are TWO ways to access Fitness on Demand! 
Sign up to access classes from home.
Use the screen located in Group Fitness 1 when a class is not in session.