---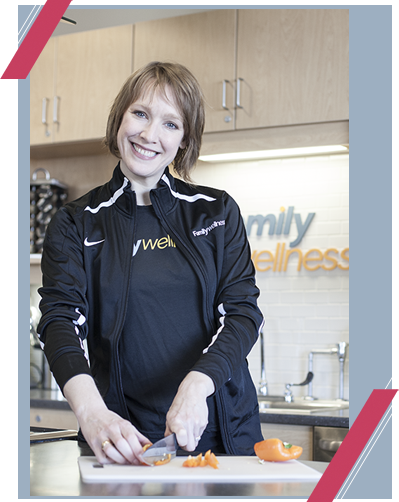 Family Wellness is proud to offer a variety of classes and programs that teach simple kitchen skills for healthy food preparation. With classes for kids, adults, and families we've got something sure to inspire you to make healthier food choices for you and your family! See some classes that sound great, but don't work for your schedule? Family Wellness also provides custom cooking classes for your private group, see below:
Kids/Family Healthy Cooking Classes
Family Wellness Healthy Cookbook
Purchase your copy of the Family Wellness Healthy Cookbook for only $25 at the Front Desk! With over 100 recipes, your family will love what's for breakfast, lunch and dinner. 100% of the proceeds will go to the Inspire Wellness Initiative!
Custom Healthy Cooking Classes
You pick the date, menu, and participants with this fun customized interactive class! We can accommodate groups of 3 to 50, perfect for birthday parties, corporate wellness/events, team building, or anything else you can think of! For pricing, menu option ideas, and all the other details check out our Custom Healthy Cooking Menu. If you have questions or would like to book your class, contact Tori at 701-234-8162 or tori.lee@sanfordhealth.org.
Custom Healthy Cooking Menu
*For updated prices, contact Tori at 701-234-8162 or tori.lee@sanfordhealth.org*