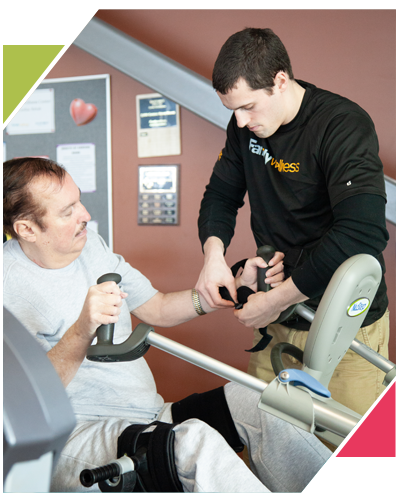 Family Wellness is proud to partner with Sanford Health to provide integrated programs that focus on the prevention and treatment of illness, disease, and injury. Please use the information below to learn about our programs.
Neuro Fit
Our Neuro Fit program covers participant's with Parkinson's, TBI, MS or seizures. Options include:
Medical JUMP START – This is a program designed to help participants reach their wellness goals by offering either a 2 week trial with an orientation with a trainer OR pay $60 for a 2 month membership, consult and three 30 minute training sessions.
Weekly Walking Group – Thursdays from 1:30-3:30 at the same time as our Walk This Way program. This program is FREE, participants will just need to sign a waiver if have not already. Click for additional details on the Walk This Way program. 
Looking for Training outside of these options? Gary incorporates physical and cognitive activities to help with mobility issues that occur with Parkinson's, TBI, MS or seizures. Please contact Gary for more information (701) 234-6961 or Gary.Pucher@sanfordhealth.org. Financial Assistance is available.
JUMP START Cancer Program
The JUMP START program is designed to help you begin the focus on your personal fitness and wellness goals.
There is no charge for JUMP START for people undergoing current cancer treatment or follow up. Patients receive a free 2 week membership to Family Wellness and a consultation with our trainer to get started!
New option – JUMP START 60 includes consultation and 3 training session plus a 2 month membership. Cost is just $60.
Step 1: Consultation: meet one on one with a trainer to discuss your goals and needs.
Step 2: Personal training session aimed to meet your own customized needs.
Step 3: Two follow up personal training session to assure you are on the right track and moving towards your goals.
You will work with a Wellness Trainer to:
Determine your readiness to begin an exercise program
Help overcome the strongest barriers to living a physically-active, wellness lifestyle
Set and commit to goals each week
Complete workouts side-by-side with your own trainer
Learn how to exercise using the resources available to you
Increase your self confidence
Co-create a plan that works with you and for you
Medical Support Program
Our goal is to support qualifying individuals or families with access to our facilities and professionals to encourage exercise as part of their overall wellness plan. To qualify, you need to be referred by a provider from our approved partner list.
If you have any questions or are interested in being an approved partner, please email jeffrey.dertinger@sanfordhealth.org
Prenatal/Postnatal
Whether baby is here or will be here soon, we can help! We offer "Baby & Me Barre" Group Fitness classes designed to strengthen the body for all the changes it will experience during pregnancy. See Group Fitness schedule for offerings. New or expecting mothers also have the option to do the Jump Start 60 program. 
For questions, please contact Karla Hensrud-Wagner, Group Fitness Manager at (701) 234-6097 Karla.Hensrud-Wagner@sanfordhealth.org. 
Youth Weight Management Programs
1 on 1 Teen Package for Youth Weight Management: for ages 12-17 years old. This is an individual customized program where the teen meets with our personal trainers for 8 sessions and with our registered dietitian for 2 sessions.
Walk This Way
Thursdays from 1:30PM – 3:30PM
Walk This Way is a program designed to support individuals with memory loss or other special needs, and their caregivers who are choosing to use physical activity as a means to manage their symptoms and mental health. Family Wellness provides support by offering free use of two designated walking paths at our facility every Thursday from 1:30pm – 3:30pm.
Free and open to the community. To register please call the front desk at 701-234-2400, and for more information contact Karsyn Wendt at 701-234-5996 or Karsyn.Wendt@SanfordHealth.org
Other Programming
We understand that sometimes we need a solution for the individual. Our experienced trainers are qualified to work with people with other chronic diseases and concerns than what are listed above.
For a personal consultation, please contact Jeffrey Dertinger, at  Jeffrey.Dertinger@sanfordhealth.org